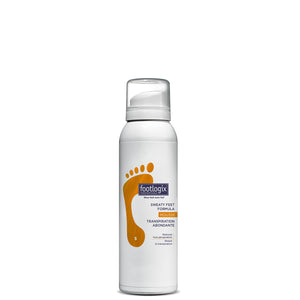 Effective for reducing perspiration in the skin of the feet.
This formula with Dermal Infusion Technology® acts as an astringent to help in reducing perspiration of the skin on the feet. Containing Oak Bark and Sage, it is also naturally anti-microbial.
Use as part of a daily hygiene routine for sweaty feet.
May be used in conjunction with Footlogix Peeling Skin Formula and Footlogix Foot Deodorant and Shoe Deodorant, as part of ongoing at home care.
Size:
125 ml
Skin Type & Condition:
For feet that perspire excessively, athletes and wearers of non-breathable footwear.
Features & Benefits:
Contains Oak Bark Extract, an astringent proven effective to shrink pore size.
Contains Sage - with anti-bacterial properties - which acts as an antiseptic.
Formulated without Urea
Usage Instructions:
Massage in to a clean dry feet before putting on footwear, before physical activity and especially when wearing non-breathable footwear, such as rubber boots or construction boots etc.
Avoid contact with face and eyes.