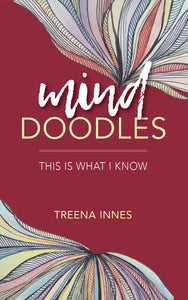 An Unpacking of Tricky, Raw & Lively Thoughts.

A book to inspire lively conversations.

Treena Innes has provided life thoughts in a Mind Doodle style that lets the reader unzip the colourful words, then unpack the free-wheeling, zig zagging ideas and questions around these lively, genuine reflections.

Vibrant, raw and quirky just begins to describe these stories within stories that will perk you up to contemplate your own life musings.    

A book to throw in the middle of the table amongst friends and family. Pick a Mind Doodle and get the lively conversation started.